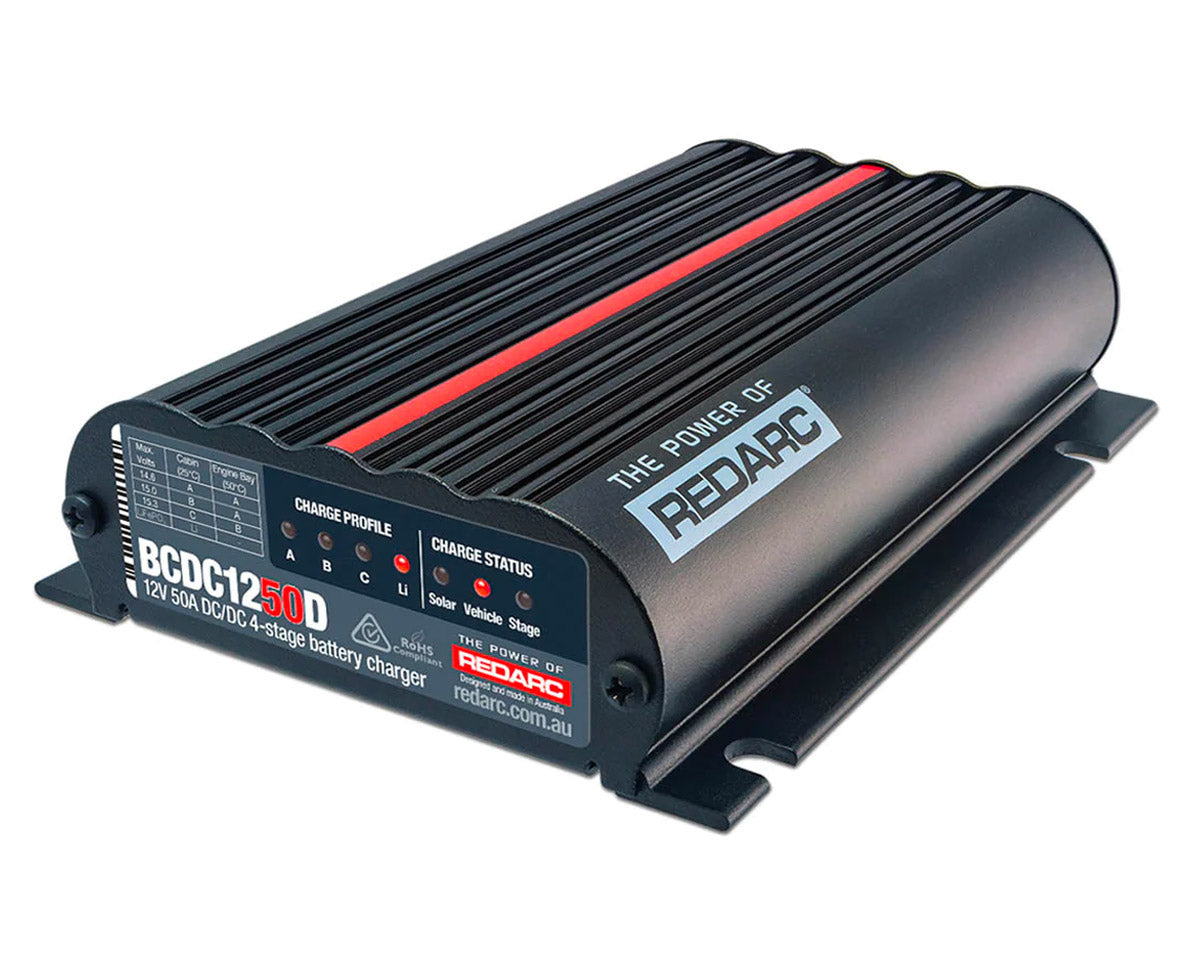 DC Battery Charger Dual Input 50A In-Vehicle
SKU: BCDC1250D
Pickup available at Main Building
Usually ready in 24 hours
DC Battery Charger Dual Input 50A In-Vehicle
Main Building
Pickup available, usually ready in 24 hours
2025 Southwest Deerhound Avenue
Redmond OR 97756
United States
+15417976714
The REDARC BCDC1250D is a 12V, 50A In-vehicle DC to DC Battery Charger designed to keep your auxiliary battery charged when driving or with portable solar panels when parked. It uses multi-stage DC-DC charging, a system that allows optimum charging levels for your auxiliary battery. The BCDC1250D has been developed to provide a higher current output, it features an additional charging stage known as SoftStart which has been engineered so that it can handle more demanding applications.
Featuring a Maximum Power Point Tracking (MPPT) solar regulator, the BCDC1250D will charge from both solar and the alternator simultaneously. And, with built-in Green Power Priority it will select solar charging first, meaning less load on the alternator. Suitable for 12 or 24-volt vehicle systems, the unit will also work with either standard or variable/smart alternators.
It is compatible with all common types of batteries used in automotive and recreational vehicles such as AGM, Gel, standard lead acid, Calcium and LiFeP04. As a guide, the BCDC1250D is used for battery bank sizes over 200AH. For smaller batteries of 75-200AH, REDARC recommends the BCDC1225D. This DC-DC battery charger with solar input has been proven to work in all types of terrains, including deep water crossings, and stands up against extreme heat (up to 176°F). It's fully sealed against the risk of infiltration from water and dust and will hold up to the adventure at hand. It's designed to maximize the performance and life of your auxiliary battery and is suited for battery bank sizes of 200AH and above in most applications.
Made in Australia by REDARC this amazing range has undergone years of testing in some of the harshest conditions on the planet. REDARC has been in business for 40 years and all of our products are made tough enough to take anything nature can throw at them.
Expion360 lithium batteries afford me the peace of mind to fish all day without ever having to worry about power loss with my trolling motor or electronics!
If you're looking for your next boat or RV lithium battery need, I would recommend Expion360. They have an industry leading 12 year warranty!
Expion360 batteries keep us charged and ready to go for all our off-grid explorations!
I wanted to give a thank you for the great customer service from the Expion360 customer service team!
.. you can't beat a 12 year warranty! These guys focus on quality which we appreciate! Check them out if you are dropping in lithium.
We like that they are an Oregon company and the weight savings that the lithium batteries provide in our lightweight trailers.
After a lot of research, I decided to install Expion360 lithium batteries for my Airstream RV. I can keep going for weeks on end without plugging in. Easy to maintain, use, safe, and always charged with solar.
Expion360 batteries allows us to stay to stay out in the woods and on all these fun trips for a very extended amount of time. We are super happy with them.
I just wanted to offer some customer feedback on your tech support. It's become quite unusual to get this level of customer service these days and I just wanted to let you know it is very much appreciated!
Casey is an absolute gem who helped us understand the upgrade to lithium. My husband and I can now look forward to camping without the sound of a generator. That, is a very big deal.