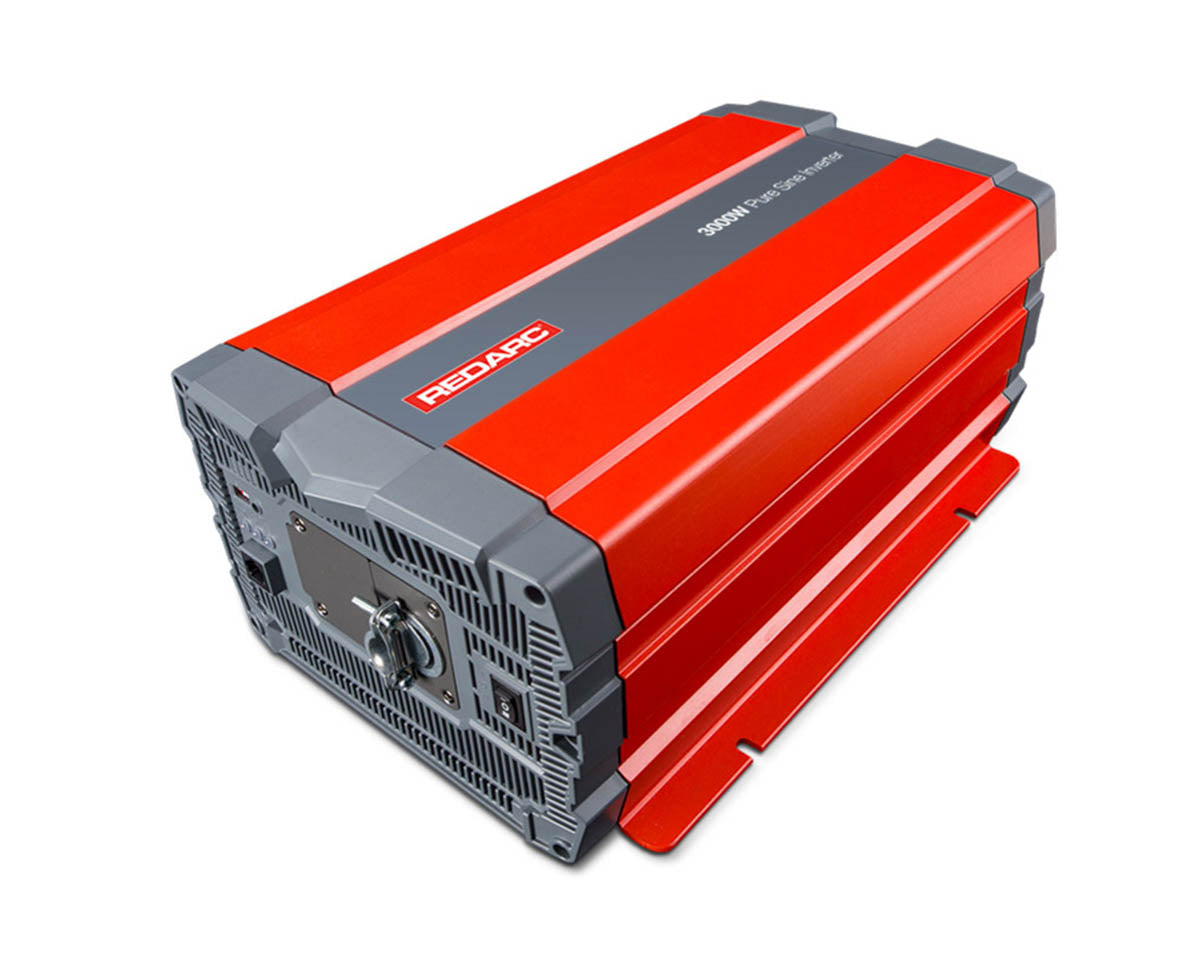 Pure Sine Wave Inverter 3000W - GFCI AC Outlet
SKU: R-12-3000RS-NA
Pickup available at Main Building
Usually ready in 24 hours
Pure Sine Wave Inverter 3000W - GFCI AC Outlet
Main Building
Pickup available, usually ready in 24 hours
2025 Southwest Deerhound Avenue
Redmond OR 97756
United States
+15417976714
REDARC's 3000W Pure Sine Wave Inverter makes it possible to plug in anywhere and power all your 110V luxuries from home. With a 3000W inverter in your off-grid setup, you can charge your phones, cameras, laptops and speakers, and run GPS, bi-pap, coffee machines, hairdryers, heaters, kettles, microwaves, irons and power tools without fear of damaging your appliances.

Utilizing a Pure Sine Wave output, the 3000W inverter ensures appliances run smoothly and efficiently, producing less heat and noise. REDARC inverters feature multiple levels of protection including overload, short circuit and an over temperature and load controlled cooling fan, which is engaged when power consumption reaches a certain level. This ensures the inverter can work comfortably in even the harshest conditions.

Control your Pure Sine Wave Inverter from up to 26 feet away with a remote on/off switch, sold separately. This allows the control of an inverter and is designed so the inverter can be installed out of sight in your RV or truck.

*R-12-3000RS-NA is compliant for industrial applications only.
Expion360 lithium batteries afford me the peace of mind to fish all day without ever having to worry about power loss with my trolling motor or electronics!
If you're looking for your next boat or RV lithium battery need, I would recommend Expion360. They have an industry leading 12 year warranty!
Expion360 batteries keep us charged and ready to go for all our off-grid explorations!
I wanted to give a thank you for the great customer service from the Expion360 customer service team!
.. you can't beat a 12 year warranty! These guys focus on quality which we appreciate! Check them out if you are dropping in lithium.
We like that they are an Oregon company and the weight savings that the lithium batteries provide in our lightweight trailers.
After a lot of research, I decided to install Expion360 lithium batteries for my Airstream RV. I can keep going for weeks on end without plugging in. Easy to maintain, use, safe, and always charged with solar.
Expion360 batteries allows us to stay to stay out in the woods and on all these fun trips for a very extended amount of time. We are super happy with them.
I just wanted to offer some customer feedback on your tech support. It's become quite unusual to get this level of customer service these days and I just wanted to let you know it is very much appreciated!
Casey is an absolute gem who helped us understand the upgrade to lithium. My husband and I can now look forward to camping without the sound of a generator. That, is a very big deal.